Boomers Re-Sign Rivera; Add Gudiño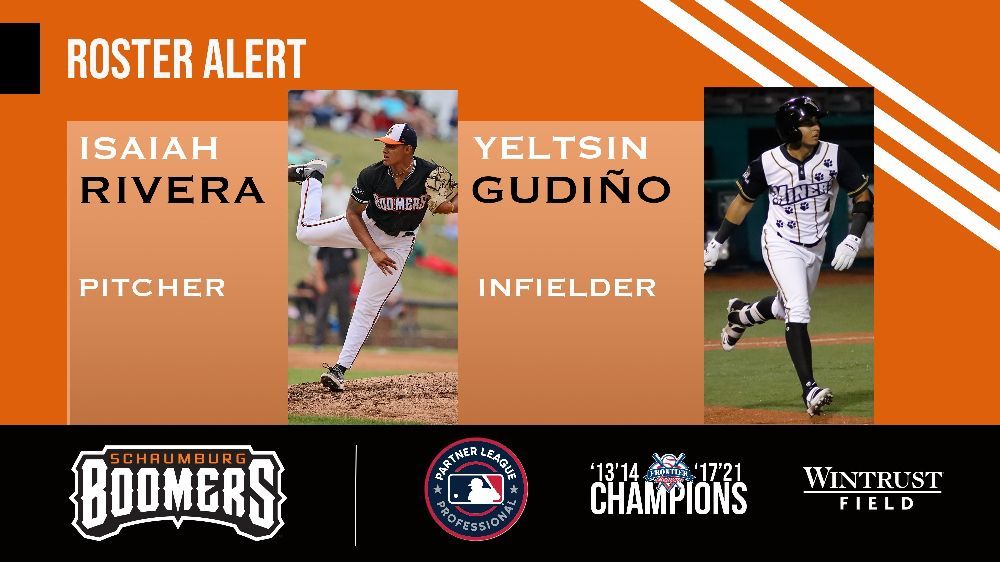 Schaumburg, IL - The Schaumburg Boomers have re-signed right-handed pitcher Isaiah Rivera and newcomer Yeltsin Gudiño. Next year, Rivera and Gudiño are set to join the defending Frontier League Champs.
Right-handed pitcher Isaiah Rivera will be back for his second season with the Boomers. In the 2021 season, Rivera appeared in 26 games and innings (57.1), where he had a 5.02 ERA and 62 strikeouts as a reliever. Rivera, the native out of Des Plaines, IL, attended St. Xavier University, where he played two seasons before transferring to Indiana Wesleyan University to play one season. He averaged a 5.19 ERA in his college career with 102 strikeouts in 31 games and innings (109.1). Rivera signed his first pro contract with the Boomers in 2021.
"Isaiah showed a lot of promise in his first season with us. He has electric stuff and natural abilities that we hope to continue to see improve next season. He's an outstanding young man that works as hard as anyone. I'm very excited to have him back with us and watch him continue to grow," said Manager Jamie Bennett.
The Boomers have also added shortstop Yeltsin Gudiño to the roster for 2022. The 2022 season will be Gudiño's first season with the Boomers. In 2021, Gudiño signed with the Southern Illinois Miners of the Frontier League, where he batted .256 with a .313 on-base percentage in 83 games. Gudiño, originally from Maracay, Venezuela, has spent time in the Toronto Blue Jays organization and the Baltimore Orioles organization.
"We are very excited to have Yeltsin joining us. He has had an extensive and successful career, and I couldn't be happier about the opportunity to see him continue that in Schaumburg. I've heard a number of good things about Yeltsin as a player and a person. He will be a great fit for this ball club," said Manager Jamie Bennett.
The Boomers return home to Wintrust Field in the spring looking to defend their 2021 Frontier League Championship.
Season ticket packages and Group hospitality offerings for the 2022 season can be reserved by call (847)461-3695 or emailing [email protected]