Boomers Add Four to 2023 Roster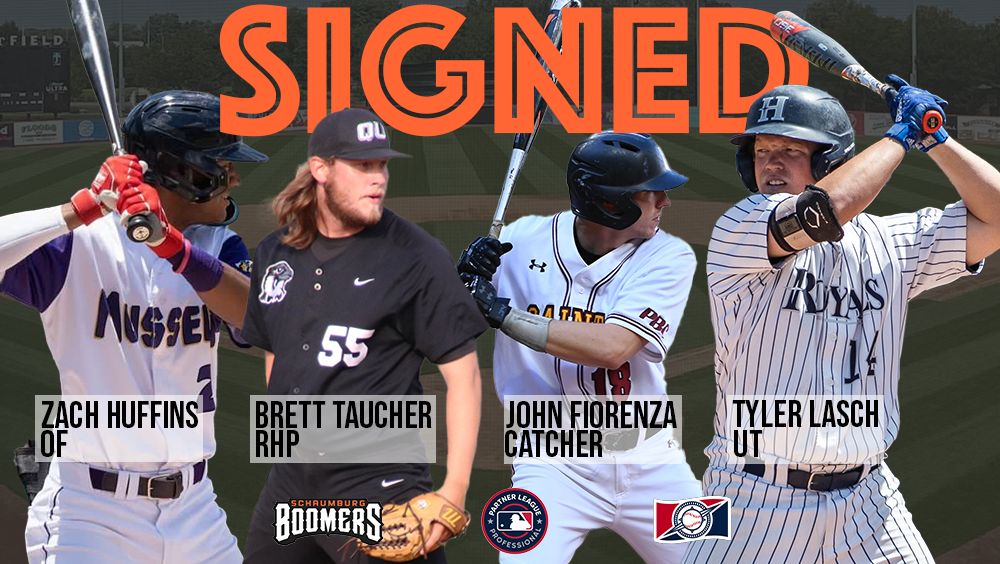 Manager Jamie Bennett and the Schaumburg Boomers have signed OF Zach Huffins, RHP Brett Taucher, C John Fiorenza, and UT Tyler Lasch. All four players are entering their first season with the Boomers.
Zach Huffins comes to Schaumburg after spending parts of 3 seasons in the minor league system with the Tampa Bay Rays and Minnesota Twins. Huffins was drafted in the 13th round by the Tampa Bay Rays in the 2019 MLB Amateur Draft. In his career with the Rays and Twins, Zach hit for an average of .252 with 3 homeruns and 4 triples. Prior to his time in the minors, Zach played at Arizona Western College. While there, he hit for an average of .379 with 9 triples and 78 runs batted in over his two years. On top of those stats, Zach swiped 58 bases, while only being caught 7 times. Huffins adds even more speed to the Boomers outfield and offense for the 2023 season,
Brett Taucher returns to the Western Suburbs of Chicago as he is a native of Elk Grove Village. Brett began his college career at SIU-Edwardsville before ending up at Quincy University for his final 3 years. While at Quincy, Brett posted a 1-1 record with 32 appearances out of the bullpen. Brett had a career total of 53 strikeouts in 52.1 innings for the Hawks. This winter, Brett played for the Manitoba North Stars of the California Winter League, where he posted a 3-0 record with a 1.21 ERA. Taucher struck out 45 batters over 29 innings. Brett looks to be another part of the Boomers bullpen this season.
John Fiorenza joins the Boomers looking to add depth to the catching position. Fiorenza, originally from Beverly Hills, FL began his collegiate career at College of Central Florida before transferring to Flagler College for his final 3 seasons. At Flagler, John hit for an average of .296 with 7 home runs and 45 runs batted in. During the 2022 season, he hit 4 homers and drove in 31 runs while batting .331. Also, during that season, Fiorenza was named the PBC, Peach Belt Conference, Player of the week twice.
Tyler Lasch arrives in Schaumburg after a productive career at Hope International University as a utility infielder. Prior to his time at Hope International, Tyler started out at Cal State Fullerton then Washington State University. While at Hope, Lasch hit for an average of .332 with 21 homeruns and 69 runs batted in over his two seasons with the Royals. Tyler has a great eye at the plate, drawing 49 walks and having a .458 on base percentage for his career.
Ticket Packages and Group Outings are available for the 2023 season, which can be reserved by calling (847)461-3695 or emailing [email protected]