Boomers Drop Extra-Inning Thriller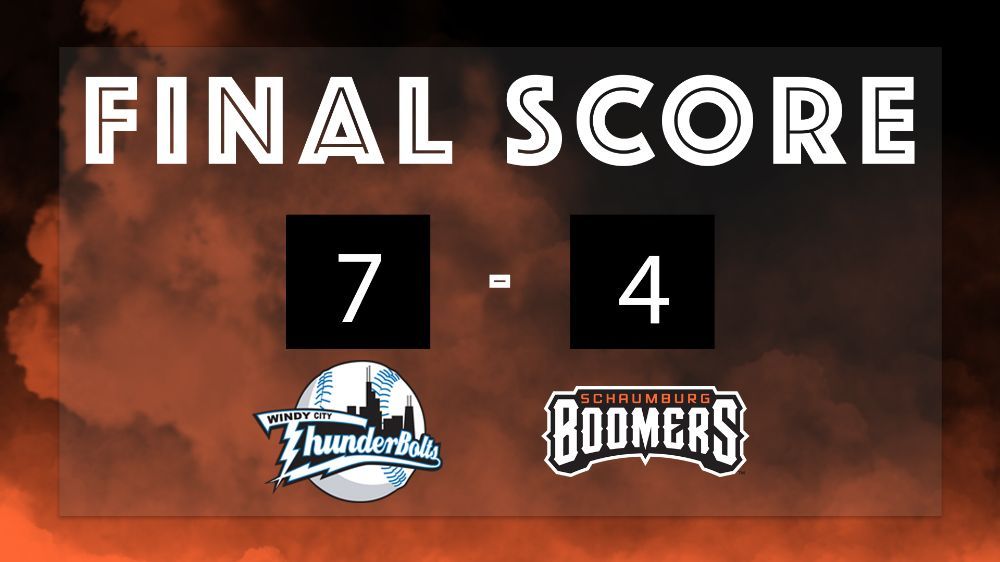 SCHAUMBURG, IL — The Schaumburg Boomers finished the opening home weekend of the year by dropping a nail-biting 7-4 decision in 10 innings at the hands of the Windy City ThunderBolts on Saturday night at Wintrust Field.
Both teams created offense early. Windy City plated a run in the top of the first before Brett Milazzo put the Boomers ahead with a two-run single in the bottom of the second. Windy City countered with a two-run single in the third from Peyton Isaacson to move ahead 3-2. Kyle Fitzgerald pounded his first pro homer in the bottom of the inning to tie the score before the pitching took over.
Neither team allowed another run until the game reached extra innings. The Schaumburg bullpen spun six scoreless frames behind the combination of Cristian Lopez, Aaron Glickstein, Merfy Andrew and Dylan Stutsman. Windy City scored the international runner in the 10th before Carson Matthews connected on a three-run homer with two outs to make the score 7-3. Blake Berry doubled home a run in the bottom of the inning and the Boomers were able to bring the tying run to the plate despite being down to the final strike in consecutive at bats.
Pitching in a third consecutive game, Jake Joyce suffered the loss. The pitching staff combined to strike out 14 a night after fanning 10 and owns three games with double-digit strikeouts this year. The Boomers owns 58 strikeouts against Windy City this season. The teams have already met five times with two games going to extra innings.
The home schedule is just underway and the Boomers are in the midst of an eight-game homestand at Wintrust Field to open the home portion. The team will be back in action on Tuesday night at 6:30pm when the Gateway Grizzlies visit for a $1 Hot Dog Tuesday presented by Gordon Food Service. Tickets are available by visiting boomersbaseball.com or calling 847-461-3695.