Boomers to Honor Dawson with Bobblehead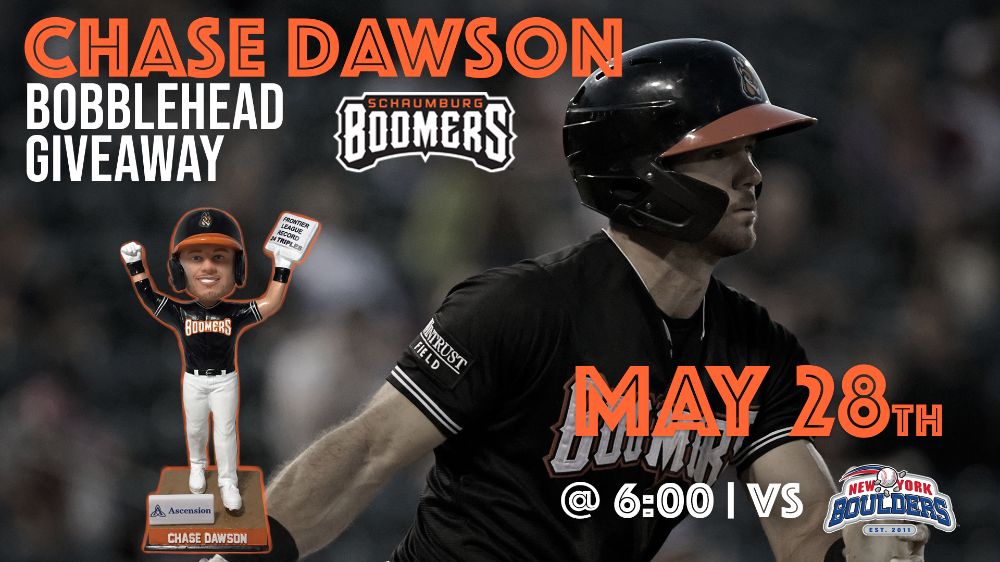 SCHAUMBURG, IL — The Schaumburg Boomers will honor Frontier League record holder Chase Dawson with his own bobblehead, thanks to Ascension Illinois, for the first 1,000 fans to enter the gates of Wintrust Field on Sunday night when the Boomers host the New York Boulders at 6:00 p.m.
Dawson set the Frontier League record for triples in 2022 with 24. The Northwest Indiana native broke the record before the All-Star break with his 17th triple on July 13 against Evansville to surpass the previous mark set by Frontier League Hall of Famer Chris Sidick in 2006. The bobblehead will commemorate the record. Dawson is the first player to have his own bobblehead with the Boomers.
Dawson, a West Division All-Star last year, tripled in five consecutive games from May 25-29 and connected on his final three-bagger of the season on September 4 in the regular season finale. The fourth-year member of the Boomers tripled twice on August 6 against Windy City to set the team's single game record. Additionally, Dawson finished with 22 doubles and five homers to set the team record for extra-base hits. The left-handed hitter batted .310 and led the team with 64 RBIs, 76 runs and 119 hits while stealing 23 bases in 24 attempts.
Dawson, one of the most exciting players in the league, was selected as a Frontier League postseason All-Star in 2021 The product of Valparaiso University initially joined the Boomers in 2019. Dawson played in 41 games that season and returned in 2021 to bat .312 with 14 doubles, nine triples, 10 homers and 68 RBIs. Dawson is the franchise's all-time leader in triples and will have the opportunity to take over the career lead in several other categories this season.
The home schedule at Wintrust Field has just gotten started and the Boomers are in the midst of an eight-game homestand. The team is back in action on Tuesday night at 6:30pm when the Gateway Grizzlies visit for a $1 Hot Dog Tuesday presented by Gordon Food Service. Tickets are available by visiting boomersbaseball.com or calling 847-461-3695.